Laurel participates in many shows and painting events throughout the year. Please check back for updates.
2013 EXHIBITS
Southwest Gallery - "Plein Air Southwest 2013 - Juried Exhibit", 4500 Sigma Road, Dallas, TX. April 6 - May 4.
Greenhouse Gallery - "Salon International 2013 - Juried Exhibit", 6496 North New Braunfels Road, San Antonio, TX. April 13 - May 3.
Davis Gallery - "No Place Like Home - Group Show", 837 W. 12th Street, Austin, TX. April 20 - May 25.
2013 CLASSES and WORKSHOPS
ONGOING - Classes at Austin Museum of Art School - Wednesday Mornings, 9:00-12:30, Spring classes now underway. Check back for fall classes in August.
3-DAY WORKSHOP - En Plein Air: Composing a Strong Landscape, May 20-22, 2013, St. Simons Island, Georgia. Contact Mary Anderson at Anderson Fine Art Gallery to join wait list. FULL again.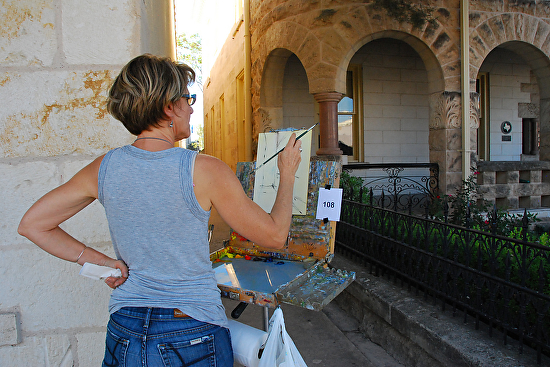 Painting in the Quick Draw at Kerrville Outdoor Painting Event 2012, Kerrville, Texas.